Why Do You Grieve
11 mins, for 11 instruments or orchestra
-- CURRENTLY NOMINATED FOR AN IVOR NOVELLO COMPOSERS AWARD --
More info can be found here on their website.
Written for Oliver Zeffman and Music x Museums, a concert which "looks at different ways in which composers have explored time as the essential medium through which their works are experienced."
Programme note
Why Do You Grieve has two starting points: first, a Bach chorale whose first line gives the piece both its title and the notes of its musical material. Second, Stephen Hawking's work, which for Marsey highlights the difference between the 'small, simple 'time' of our daily lives, and the kind of huge, relativistic 'time' used when discussing large celestial objects'.
Parsed through Marsey's lucid visual imagination, abstract notions of physics become processes that can be translated into music. As objects fall towards a black hole, extreme gravitational forces distort them, stretching them into a string one atom thick – an extraordinary process called 'spaghettification'. Marsey applies this process to music, imagining the music of Bach inscribed on Voyager 1's golden disc while the space probe is pulled into a black hole.
Why Do You Grieve has a sinister, rumbling undertow that seems constantly to drag on the glassy, celestial layers of counterpoint high above, creating a lurking sense of dread. Lonely horn calls echo across the music's wide-open texture. At the end of the piece the music seems to rise up, sparkling optimistically in the major mode before fading away. This closing section refers to Hawking radiation, which offers a glimmer of hope: some energy is theoretically able to escape the seeming inevitability of a black hole, radiating away until the black hole evaporates.
-- Programme note by Anthony Friend
---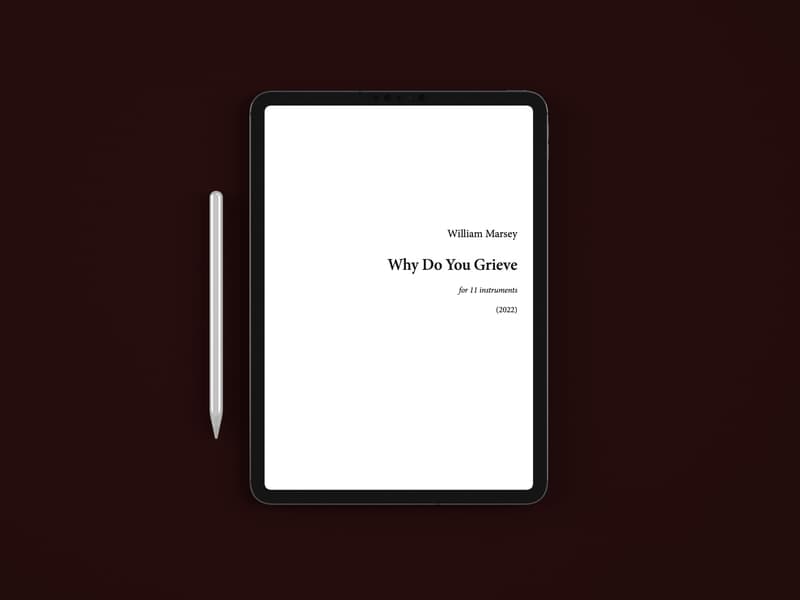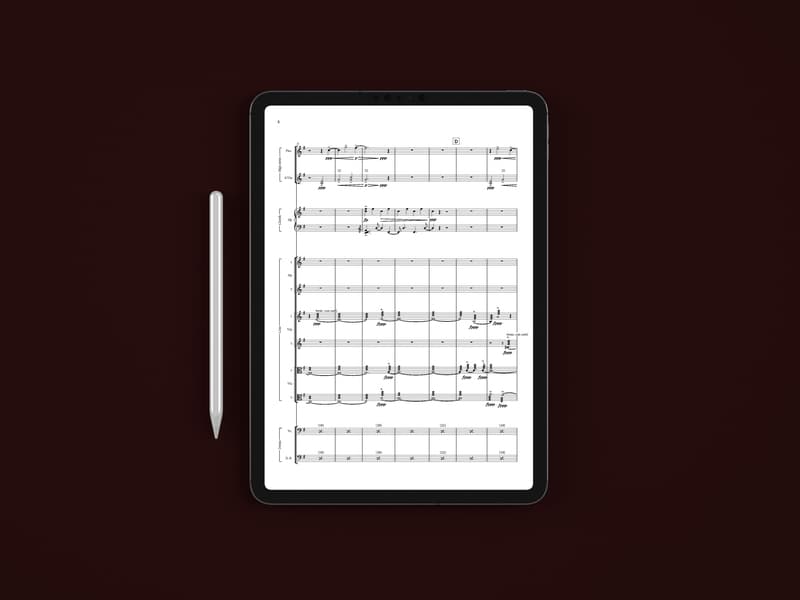 Sheet music
Why Do You Grieve
Full score PDF
£15.00
Shipping: £0
Total £15.00
---
Purchase Info
PDF sales
PDFs will be automatically prepared and you will receive a download link within an hour after purchase, sent to the email associated with your paypal account.
PDFs are for personal use only. Do not distribute them to others or print out extra copies for friends or students.
If you'd like to perform or distribute the work please contact me at [email protected].
Physical sheet music sales
Sheet music is posted within 4 working days of receipt of payment.
Postage
Physical goods are sent by standard 2nd class post.
Past events
Platoon release Live at the Science Museum, part of Oliver Zeffman's Music x Museums.

Why Do We Grieve is out on Platoon as a Visual Album, released as part of Music x Museums, a series of albums and films with Apple Music.

The premiere of Why Do We Grieve, for 11 instruments. Performed at the Science Museum under Oliver Zeffman, part of his Music x Museums series.