Stone Him (with Antonia Luxem)
7 minutes, for video, 2 singers, and violin
This song/video-piece was a collaboration with filmmaker Antonia Luxem and Shadwell Opera. We collaborated on the themes of queerness, sport, and food. We were interested in the rules we're often given to live our lives by.
The text is biblical, taken from the uncannily practical Book of Deuteronomy, setting a part of the Deuteronomic code that concerns social regulation. This is part of a long-standing personal interest in this part of the Bible. It is around here that we find the parts of the bible often cited in opposition to gay rights, nestled alongside verses that outlaw shrimp consumption, or give detailed instructions for constructing ceremonial clothes.
The part we used for this piece details how to discipline a son if he becomes gluttonous, drunk, and disrespectful, advising corporal punishment, ritual humiliation, and murder. This section of the bible has always struck me as weirdly pragmatic compared to much of the bible, but also fascinated me as an often upsetting glimpse of society at the time of the bible's writing. The same chapter details the procedure by which it is allowable to marry a beautiful woman of your enemies whom you have taken captive (shave her head, trim her nails… after she has lived in your house and mourned her father and mother for a full month… she shall be your wife), whereas the next chapter switches to construction law, instructing that if you build a new house, you must "make a parapet around your roof so that you may not bring the guilt of bloodshed on your house if someone falls from the roof".
Written for soprano, mezzo, and violin, the music was recorded binaurally for online viewing with headphones.
Director of Photography: Tegid Cartwright
Camera Assistant: Marika Kochiashvili
Colourist: Megan Lee at etc.colour
Cast: William Marsey, Clémence Rauch, Dave Sylvester, Josephine Stephenson
Musicians: Angharad Lyddon, Mimi Doulton, Amy Tress
Conductor: Finnegan Downie Dear
Sound Engineer: Tom Parnell
---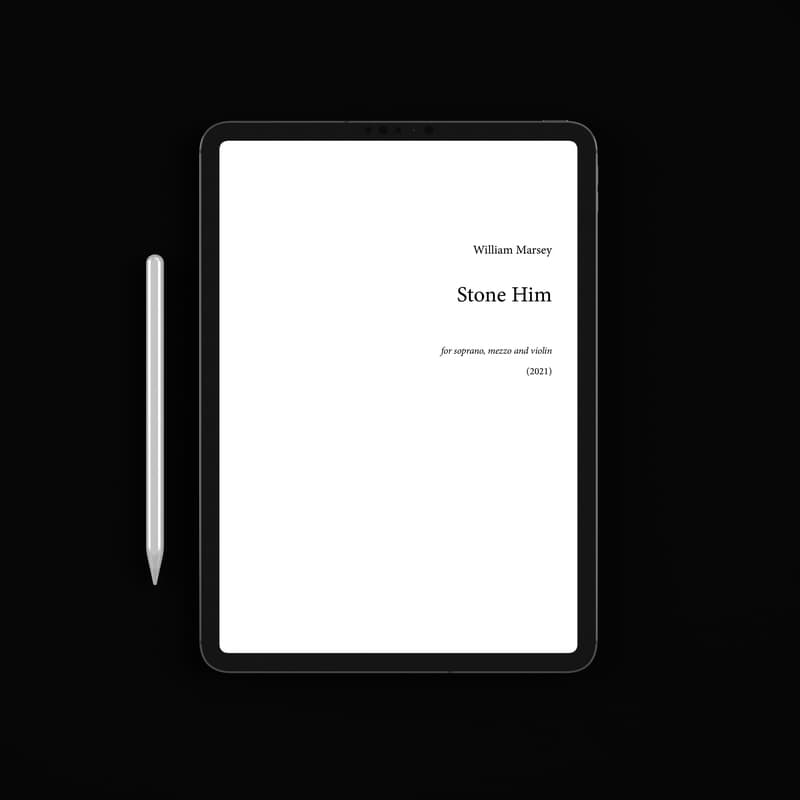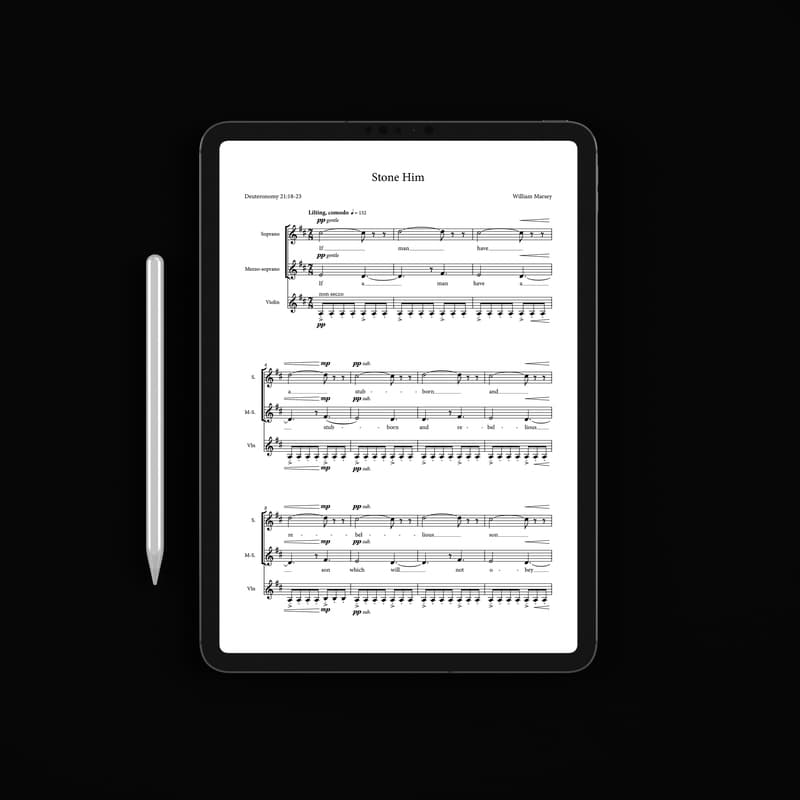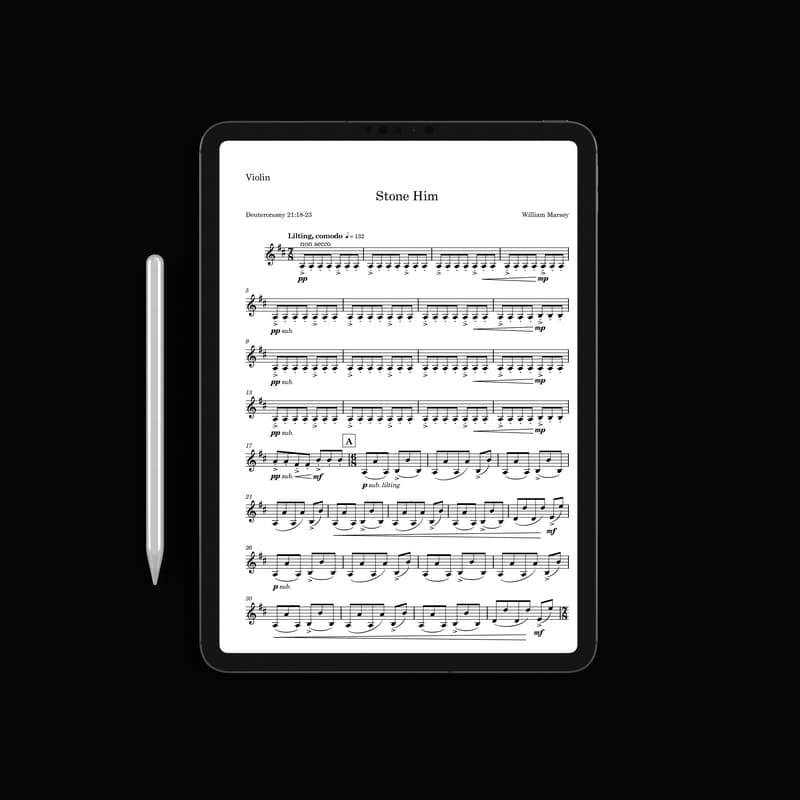 Sheet music
Stone Him (with Antonia Luxem)
Full score and parts PDF download
£20
Shipping: £0
Total £20.00
---
Purchase Info
PDF sales
PDFs will be automatically prepared and you will receive a download link within an hour after purchase, sent to the email associated with your paypal account.
PDFs are for personal use only. Do not distribute them to others or print out extra copies for friends or students.
If you'd like to perform or distribute the work please contact me at [email protected].
Physical sheet music sales
Sheet music is posted within 4 working days of receipt of payment.
Postage
Physical goods are sent by standard 2nd class post.
Past events
Stone Him, a binaural video collaboration with Antonia Luxem and Shadwell Opera, released online for free streaming. Part of Shadwell's binaural commissions project.
News
Video collaboration out soon

My video piece collaboration with Shadwell Opera and Antonia Luxem will be out in April. It's a 3D audio experience about masculinity with a video of me in a park eating a sandwich. It will be available here.