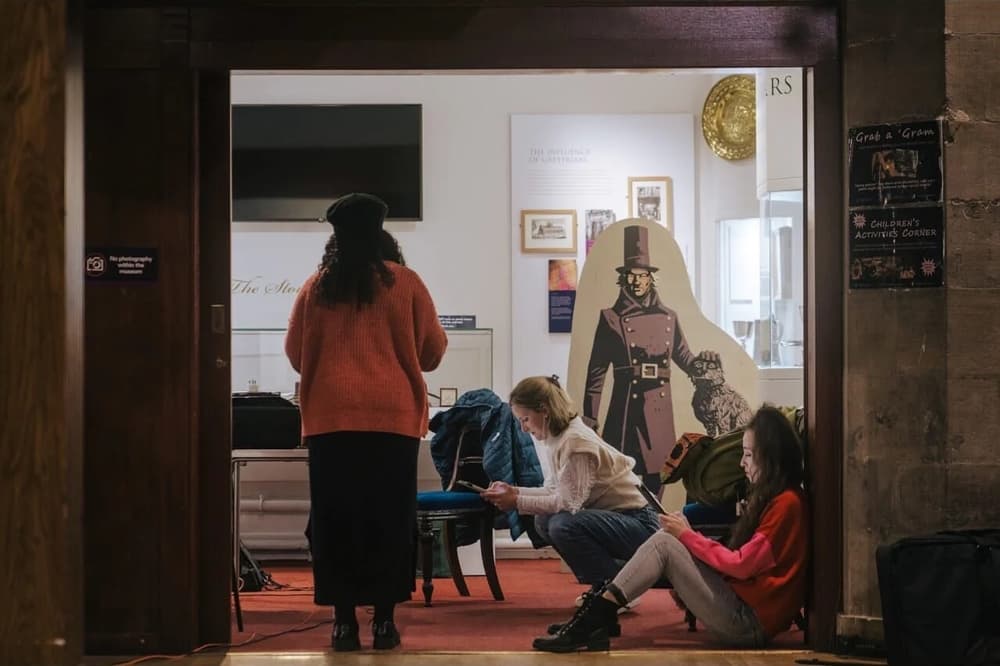 Removal and Other Powers
8 mins, 2 voices and piano
This song, for soprano, mezzo, and piano, was commissioned for the Our Indifferent Century recording project, on Delphian records. The disc is a "state of the nation" project, and pairs Britten's On This Island, and Finzi's Before and After Summer with new songs by myself and Joanna Ward.
I set text taken from the 2014 immigration bill as introduced, choosing the parts that describe the royal ascension (this precedes all bills), as well as the statement from then Home Secretary Theresa May that declares that the bill does not contravene the EU 1998 bill on human rights.
This bill remains a cornerstone of the UK government's ongoing "hostile environment" immigration policies, and significantly is seen by some as the final step in a long line of policy changes that resulted in the Windrush Scandal. The Home Secretary's statement that the bill does not contravene the 1998 EU Human Rights Act, although inserted as a matter of procedure, is particularly interesting because much of the conversation in parliament leading up to this bill's introduction concerned the governments intentional avoidance of the obligations of that human rights legislation. Inasmuch as any country is defined by its relationships with others, I find our immigration policies to be integral to understanding current UK culture.
The bill and the parliamentary debate around it's introduction is freely available and can be found in Hansard.
This song was written for and recorded by Fleur Barron, Francesca Chiejina, and Natalie Burch. It will be released on Delphian Records 20 October 2023.
---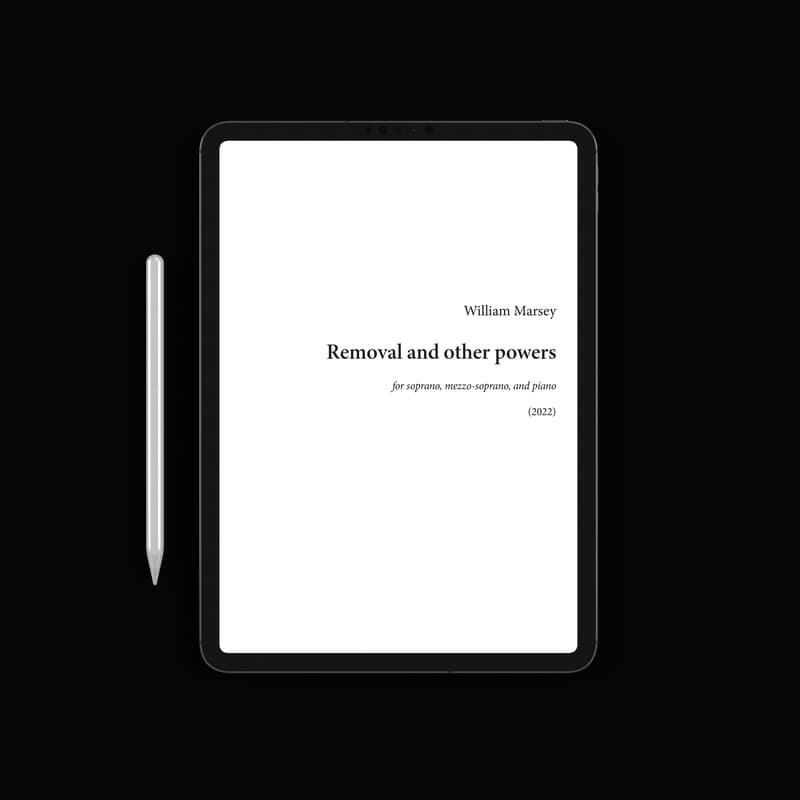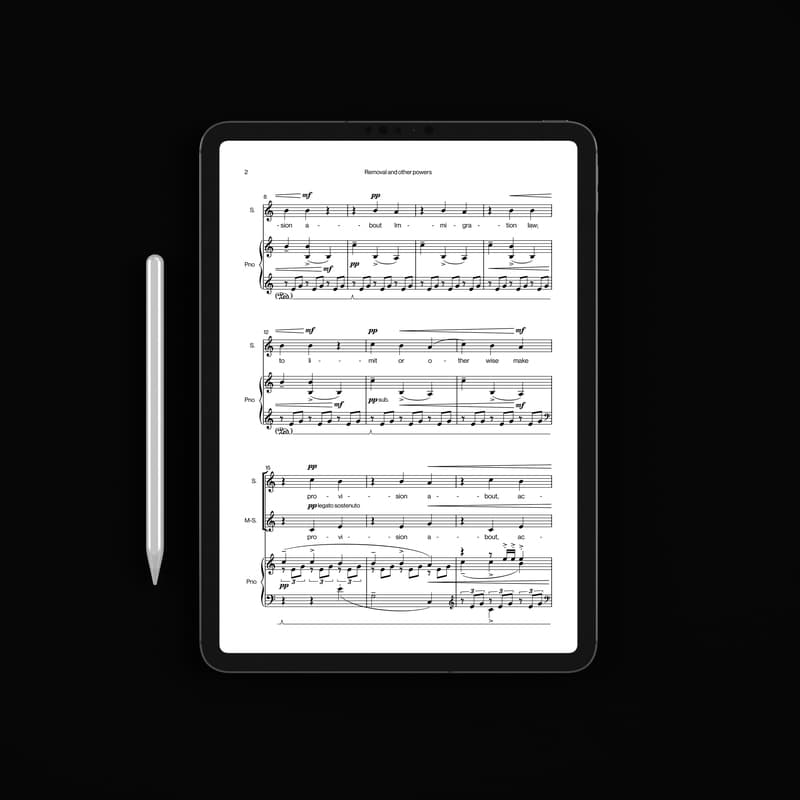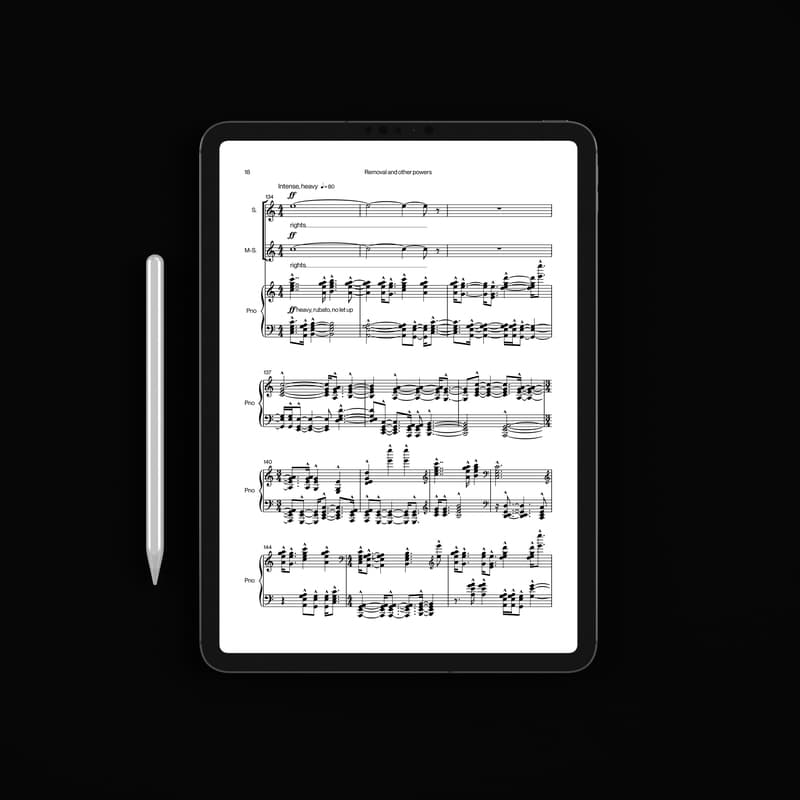 Sheet music
Removal and Other Powers
Full score PDF download
£12
Shipping: £0
22 pages
Total £12.00
---
Purchase Info
PDF sales
PDFs will be automatically prepared and you will receive a download link within an hour after purchase, sent to the email associated with your paypal account.
PDFs are for personal use only. Do not distribute them to others or print out extra copies for friends or students.
If you'd like to perform or distribute the work please contact me at [email protected].
Physical sheet music sales
Sheet music is posted within 4 working days of receipt of payment.
Postage
Physical goods are sent by standard 2nd class post.
Past events
Natalie Burch, Fleur Barron, and Francseca Chiejina, have put together a disc on a state of the nation theme. Two new commissions from Joanna Ward and me, alongside Finzi and Britten.
News
Our Indifferent Century out now

Our Indifferent Century, with pianist Natalie Burch and singers Fleur Barron and Francesca Chiejina, and a track by me, is now available, in digital and physical. Listen here.