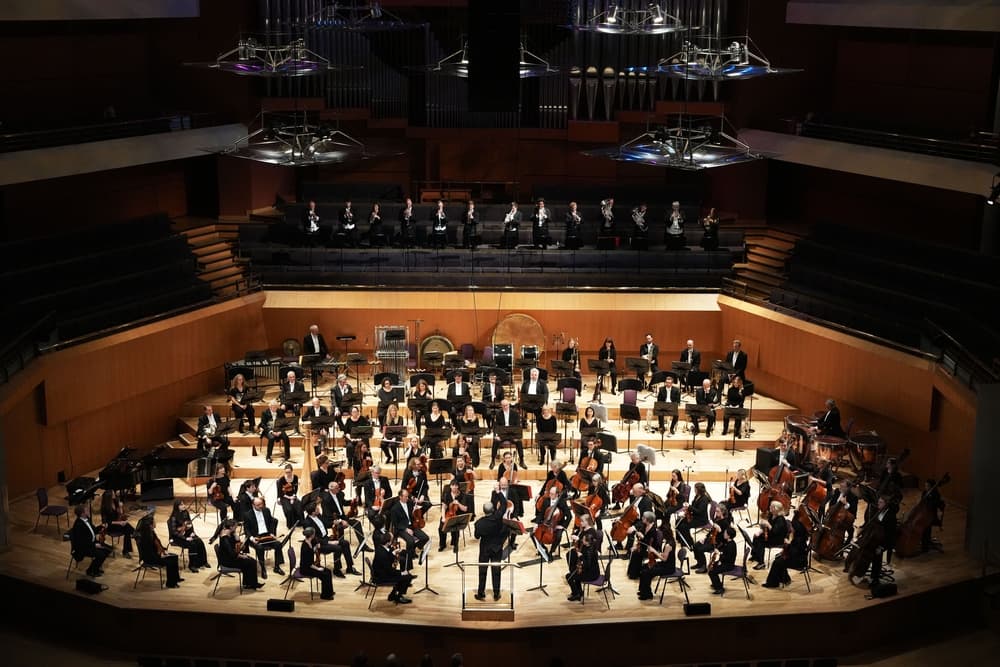 Man with Limp Wrist
19 mins, orchestra
"distinctive and strangely touching"
– Richard Morrison, The Times
"there was a troubled haunting quality to these skew-whiff chorales and wonky Elizabethan dances, all clothed in dusky veiled sounds"
– Ivan Hewett, The Daily Telegraph
"music of emotion and expressiveness, sometimes in delicate and intricate textures, often with great contrapuntal complexity and interest ... very attractive and rewarding."
– Robert Beale, The Arts Desk
---
Man with Limp Wrist is an orchestral piece in nine scenes:
I – Ghost Story
II – The Texter
III – Bar Boy
IV – Untitled
V – The After-Party
VI – Family Photo
VII – The Reader
VIII – Three Friends
IX – Man with Limp Wrist
The title for this piece is derived from a 2019 oil painting by Salman Toor. It's a tall, thin canvas, a whole-body portrait of a naked man in introspection. The painting has always struck me as unusual: Toor's work of that time usually features characters in the midst of dynamic, domestic scenes, his distinctive protagonists (ciphers for the painter himself) finding themselves in quiet moments at crowded bars, at parties with friends, enjoying quiet reveries in the glow of a smartphone. The central character of Man with Limp Wrist, however, is a bare posed figure, standing alone, in a room, against a blank wall, one arm raised with a dangling hand, his gaze averted.
Each of the nine segments of my composition finds its inspiration in a different painting by Toor, each describing a single fleeting mood, or scene, and all but the final title movement inspired by a painting of a domestic setting. As Toor's artworks reference the Old Masters in their composition and subject matter, my music also navigates historical foundations, drawing upon melodies and harmonies from centuries-old hymns, deconstructing and reassembling them into fragments that repeat, meditate, and unravel.
---
This work was commissioned by the LA Phil in 2019. The world premiere was given by The Hallé in October 2023 conducted by Thomas Adès.
INSTRUMENTATION
2 Flutes (II = Piccolo)
2 Oboes (II = Cor Anglais)
2 Clarinet in Bb (II = Bass Clarinet)
2 Bassoons (II = Contrabassoon)
2 Horns in F
2 Trumpets in C
Tenor Trombone
Bass Trombone
Tuba
Timpani
Strings
Past events
Thomas Adés conducts the Hallé in a new piece of mine, Man With Limp Wrist, alongside a programme of his own works and Janacek's Sinfonietta.

[POSTPONED] UK Premier of an LA Phil commission for wind and brass, part of LA Phil's 2021 residency at the Barbican, as well as the Barbican's series 'Thomas Adès at 50'.

[POSTPONED] A new piece for LA Phil winds and brass LA Commission, conducted by Tom Ades.